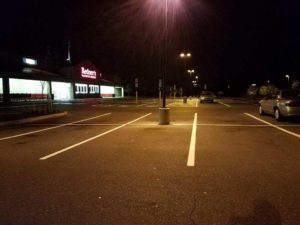 If you work in line striping you can't help but look at lines on the roads and in parking lots. When we bring on new crew members, without fail they come back after their first weekend away and bring up how they catch themselves looking at parking lot stripes everywhere they go.
Most people tend to overlook line striping even though it's all around them. That's okay! We'll do the (odd) obsessing for you!
If your interest in striping piques only when you need new parking lot stripes in your property, then you probably have questions. Well, we have answers! Below you'll find some of the most common questions that our customers ask about parking lot stripes and the quick answers you need to move forward with your line striping plans. Of course, you can always contact us with questions or get a QUICK QUOTE price estimate.
How Long Does the Paint Take to Dry?
The dry time for your striping job varies according to which materials you use. (Learn more about the different types of striping materials here.) However, let's assume you're using waterborne paint:
Paint is normally drivable after one hour – in a hot summer day in the sun it's dry to the touch in under 60 seconds!
Lines are totally cured in about four hours, depending on weather conditions
Colder weather and lack of direct sunlight can lengthen dry time
In colder weather, solvent based traffic paint is recommended
Whenever we talk about "normal" or "typical" conditions, we're thinking about temperatures over 50 degrees Fahrenheit.
How Much Does It Cost?
There are no fixed prices for a parking lot striping project. The size of your lot, what part of the country and whether it's a re-stripe or layout among other things affect the cost. We'll also need to determine if this is a sealcoat and paint project or paint only?
In our market we see prices in the following ranges:
| | |
| --- | --- |
| Parking Stall | $2.50 – $6.00 |
| Double Lined Stall | $6.00 – $9.00 |
| Handicap Symbols | $20.00 – $35.00 |
| Arrow | $10.00 – $20.00 |
| Stop Bar | $15.00 – $30.00 |
If you're thinking about getting your lot re-striped and need a price you can contact us with the address and basic info. Because of our QUICK QUOTE policy, we can often get estimates back within 72 hours. If you need a quick turnaround, please let us know that upfront and we will do our best to accommodate your timeline. There's no hard selling and no pressure tactics. That's not how we do things.
What Must I Do to Prepare for Striping?
There is very little you need to do for us, but there are a few things that help us complete our job quickly and effectively.
Clear the area of all vehicles – for apartment complexes this usually means giving tenants lots of notice leading up to the scheduled work date.
Keep irrigation systems off leading up to the scheduled work date. Paint cannot be applied to wet pavement.
Inform your staff and customers – if possible – that you have scheduled striping.
If you can take care of those four issues, we'll take care of the rest!
Can You Stripe in The Rain?
Rain is particularly disruptive. As you would probably guess from personal experience, paint and adhesives don't function as well when saturated with water. We can sometimes dry small areas with leaf blowers, but we can't line stripe in the rain.
If your striping is planned for a day that turns out to be rainy, we'll contact you to reschedule for another day.
Can You Stripe at Night?
Definitely! Line striping at night is a great option for most businesses because it reduces the "down time" of their parking lot. Our crew can stripe your property at night, as long as:
The area is well-lit
Traffic in the area is reduced or controlled
Weather permits
If you have a day or night striping preference, let us know. We should be able to accommodate you without any problem.
Still Have Questions?
We touched on a few of the most common questions we receive, but we definitely didn't address them all.
If you still have a question or want a price on your lot, shoot us over a quick message with your address or call us today!